winner of the speakeasy at yeah write #107
Honey with that?
Welcome back to the speakeasy at yeah write.  We're proud of this hang out and would love it if you made this your regular cuppa.   Don't forget to invite your friends — we've just put on the kettle and want to see everyone we know here.
Please help us congratulate Rarasaur, our popular vote winner this week!  Her story of a devious salesperson selling a dented thimble  taught us the principles of sales and delighted us. Hey, Rarasaur —drizzle that sweet winner's badge stashed on our sidebar on your blog.  Don't forget to send our favorite queen bee Stacie your sentence prompt for next week's grid. (Stacie@yeahwrite.me)
We're brewing just for you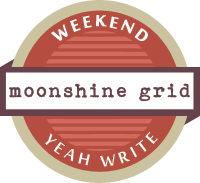 If your weekend is feeling empty and sparse, join us by linking up your best writing to this weekend's Moonshine Grid, tonight at 6 pm EST.  There's no voting, no prizes and no pressure.  All we ask is that you not peddle any wares for yourself or someone else in your post.  Weekends are not for blog-o-marketing, but they are for the other side  of your blog—your top 10 lists, your stream-of-consciousness posts, that hilarious text message exchange with your brother, whatever you want.
Check back Sunday for new prompts. Here's our weekly schedule — it syncs up with our sister community, the yeah write challenge grid (all times are EST).
The grid is open for submissions at 00:00, Tuesday.
The grid closes at 23:59 on Wednesday night.
Voting is open at 00:00, Thursday. It closes at 21:59 on Thursday night.
The winner's post will drop at 12:00 pm on Friday.
So let us cozy up with a cup of chamomile because the weekend is ready for some crumpets…